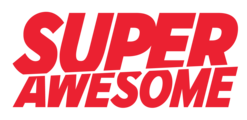 About SuperAwesome
Founded in 2013, SuperAwesome is the largest kids digital media platform in the world, reaching 300 million kids each month across mobile, web and online video. SuperAwesome's technology and products power kid-safe advertising, parent-portals and COPPA compliance for hundreds of brands and agencies around the world. Clients includes Lego, Warner Bros, Hasbro, Spin Master, Nintendo and many others.
Our infrastructure helps the digital kids ecosystem grow;
AwesomeAds is the industry's leading kid-safe, COPPA- and GDPR-compliant ad platform used by hundreds of brands and agencies in the US, UK, Europe, Australia and Southeast Asia. AwesomeAds powered REX, the world's first and only automated marketplace for kid-safe advertising
Kids Web Services (KWS) provides compliance-as-a-service tools for kids' content creators and is used by companies like Hasbro, Hachette and Walker Books to power international, kid-safe sites and apps
PopJam, is the leading kid-safe social content platform in the UK and now also available in the US, used by brands including Nintendo, Puffin, Roald Dahl, GirlTalk and many others

Headquartered in London, the company has offices in New York, LA, Singapore and Sydney. For more information, please visit www.superawesome.tv or @GoSuperAwesome.

Why work at SuperAwesome?

Our team has a serious track record. We've founded and played senior roles in success stories like DemonWare, Nickelodeon, Jolt Online, Mind Candy, Swapit, Beamly, Outfit7, Stardoll and many others
We're one of the fastest growing digital kids startups on the planet (and still a bit of a secret in Europe). We'll tell you more when you come and see us
We have offices around the world and encourage our team to visit (and support them when they want to relocate)
We're small, nimble and reward people who are willing to take responsibility and run with things. Some of the most influential people in the company today started in the most junior position at the time. Join now and you get to shape the company. For real
We work with almost every major kids' brands and media company in the world today such as Disney, Hasbro, Mattel, Lego, Turner and hundreds of others. Our technology is helping them shape the future of the digital kids ecosystem.
We're the number one company in our sector and growing every single day. There are *lots* of interesting problems to solve